Shanali was scammed for thousands of euros: 'Hang up immediately when you get a strange phone call'
Master's student Shanali (26) was scammed over the phone by criminals posing as employees of the Ministry of Justice. Now she wants to warn others about the devious way in which these scammers operate.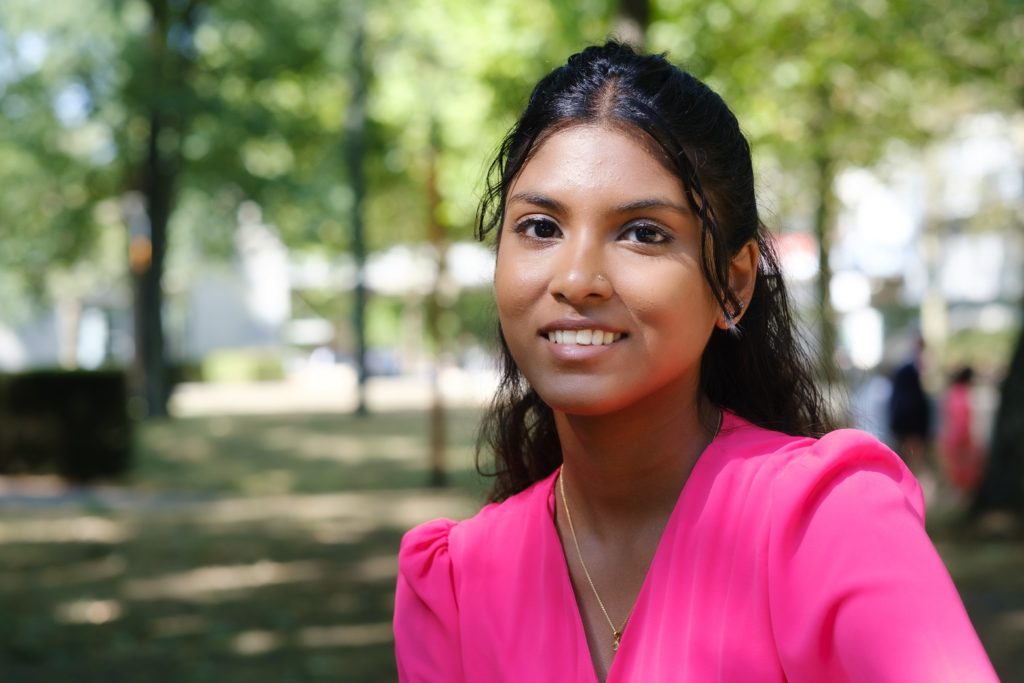 Lees dit artikel in het Nederlands.
The day begins happily for Shanali, TiU Master's student in Communication and Information Sciences. It is the beginning of April and a large part of the Netherlands turned into a winter wonderland that morning. In Tilburg also fell a lot of snow. It is the first time that the Sri Lankan student experiences this and so she opens her window to touch the snow. Later, when she is in the kitchen making a cup of coffee, her phone starts ringing. An automated voice says, "Hi I am calling from the Ministry of Justice, if you want to pick up the call, press 1. She picks up the call and gets an employee on the line. Then her cheerful mood quickly turns to fear and anxiety.
"The man on the phone explained that my BSN number (social security number, ed.) was involved in criminal activities. For further explanation, he would connect me with my 'case officer,'" Shanali recounts five months later from her attic room in Tilburg. "I got a huge shock and ran to my room. My boyfriend was here and thought I was on the phone with my family, so he left me alone."
Blood Traces and Cocaine
The second 'employee' immediately gives her his work-related ID information and the so-called ID number of her file, along with instructions to write it down somewhere. It gives Shanali confidence that she is indeed dealing with an official agency. "He told me that my BSN number had been used to open several bank accounts that were then used for fraud and money laundering. Also a car with blood traces and cocaine had been found in Amsterdam-West. That car had been rented through my BSN number."
'If she stays on the line and cooperates, everything will be fine.'
Shanali panics and says she has nothing to do with it. How did these criminals get her data? And could this situation affect the job she will start a few days later? The man then immediately reassures her that he is there to help her, if she stays on the line and cooperates, everything will be fine. She just has to prove that she had nothing to do with it. "The next day two police officers would then come to my house to give me a new BSN number," Shanali continues.
In order to help her, she has to stay in her room and is not allowed to contact anyone. She also has to give full disclosure. When counter-questioned, she is told in a defensive tone that if she does not cooperate properly, he can no longer help her. Then the police will come and arrest her.
"Because so many bank accounts had been opened in my name, I had to prove that I only had one and that the money in it really belonged to me. According to him, I could do this by installing the program AnyDesk on my computer and phone, so he could watch while I logged into my account and check everything." She does as he says.
All in all, the Master's student spends over two and a half hours on the phone with the man. In that time, he explains to her step by step what she has to do, she needs to install the Bunq banking app and create an account. She also has to create an account at Coinbase, a website in crypto currency. In the end, he transfers 2600 euros to there, almost all the money in her account.
"Then he showed me where my money was and told me it was safe now. I was given a security key with which I could get my money back the next day. Relax and take a sip of water, he then said."
All the money is gone
At that moment her (Dutch) boyfriend enters the room and asks what is going on. While crying she whispers a short summary to which her boyfriend immediately shouts that they are scammers and that she should hang up immediately. After she hangs up and deletes everything, they contact the police. The police advise her to log on to Coinbase to see if her money is still there, but by then it has already been siphoned off. "They bought crypto currency from it and transferred everything to another account," she says.
Thinking back on what happened, a few things stand out in retrospect: "There was a lot of background noise, as if the person I was calling was in a crowded call center. Also, my 'case officer' became very impatient and short tempered when my internet connection faltered. In addition, both men spoke with an Indian accent, but I wasn't suspicious of that at the time."
'I didn't want to be sent back to Sri Lanka as a criminal.'
And then, visibly emotional: "I went along with it because I believed that I had to do this to prove that I was not involved. I did not want to go to jail or be sent back to Sri Lanka as a criminal. The number I was called with was Dutch, so at first glance there was nothing strange about it."
The moment she had to call her parents to tell them what had happened she found the most difficult. "It was actually their money," she says in a trembling voice. "They were disappointed in me, but now they're okay."
Hang up when you get a strange phone call
After Shanali realizes that she has been scammed, she and her boyfriend start a round of calls to the police and all the agencies involved. They hope they can help her limit the damage. That hope turns out to be vain. Because she herself has given access to her bank account, the bank can do nothing for her. After a few weeks, the police also decide to close their case: there are many like her and there is little they can do.
Shanali shared her story with NOS (in Dutch) in July with the aim of making other people, especially from the international community, aware of this form of fraud. The warm reactions she received after that helped her to process the painful event and to continue her life in the Netherlands. Last week she started working on her Master's thesis and in the meantime she has also started a part-time job at a Rotterdam-based company specialized in improving patient care through AI radiology solutions.
Above all, what has happened to her has been a great lesson. "Before this, I was just a naive girl who listened to what other people said. I always thought that things like this only happen in Sri Lanka. That life is easier in the West because people there are so honest." What message she hopes to convey above all? "Be careful and hang up immediately when you get a strange phone call!"

By sharing her story, Shanali hopes that institutions with many internationals, such as the university, will become more aware of this issue. "Informing students and staff more actively can prevent a lot of suffering. I ended up losing 2,600 euros, but I'm sure there are people who lose all their savings because of this."
International students are particularly affected
Scammers posing as employees of the judiciary, the Supreme Court, or police, Shanali is not the first to fall for it and lose her money. Recent news reports indicate that several students (a.o. from Delft and Rotterdam)  have been scammed. The police recently called on to various universities with the request to warn their students (and staff) about these scams. According to that e-mail, that Univers was allowed to view, International students are particularly affected. Some students lose all the money they had put aside for their studies.
Why are international students in particular victim of these scams? According to Ruben van Well, acting team leader of the cybercrime team in Rotterdam, these criminals probably do not specifically target international students. "They mostly make random calls and use the shotgun approach, in the hope that something will get hit. Since the scammers often speak English, the Dutch are more likely to hang up. If a targeted call is made, this is often based on the victim's public data, for example from a social media profile. It also happens that personal data has been obtained by following a link in a phishing email."
Multiple Tilburg victims
Mies Hezemans, TiU dean of students, informs Univers that several students in Tilburg have been scammed by phone-criminals. "There is no central reporting point, so it is difficult to give exact numbers, but every year there are between five and ten students who experience this." Hezemans points out that students not only deal with phone scams. They also bump into scammers when looking for a house. "Someone offers a room, the student pays rent and deposit in advance, but then it turns out there is no room at all. Many students are so desperate for a room that they quickly fall for it."
Unfortunately, the university can do little for them. "It's just plain bad luck. We can't do much more than make students aware of these practises. If it happens anyway, and they get into financial difficulties as a result, then they can report to us. We then see what we can do, for example, by offering an adjusted payment arrangement for tuition fees. But there isn't much more we can do, unfortunately."
*Shanali's full name is known to the editors
Do you want to know how to recognize scammers and respond if this happens to you? This leaflet from the police explains everything.
Are you yourself a victim of fraud? Report it to the police via politie.nl or 0900 8844 and report it to the Fraude Helpdesk via 088 – 7867372.