Going to the movies on campus: Open Air Cinema big success
It's a change from attending lectures. Students, staff, and other interested parties could enjoy an outdoor movie every Tuesday night during the month of September. Unfortunately, the weather gods did not always favor the Open Air Cinema event.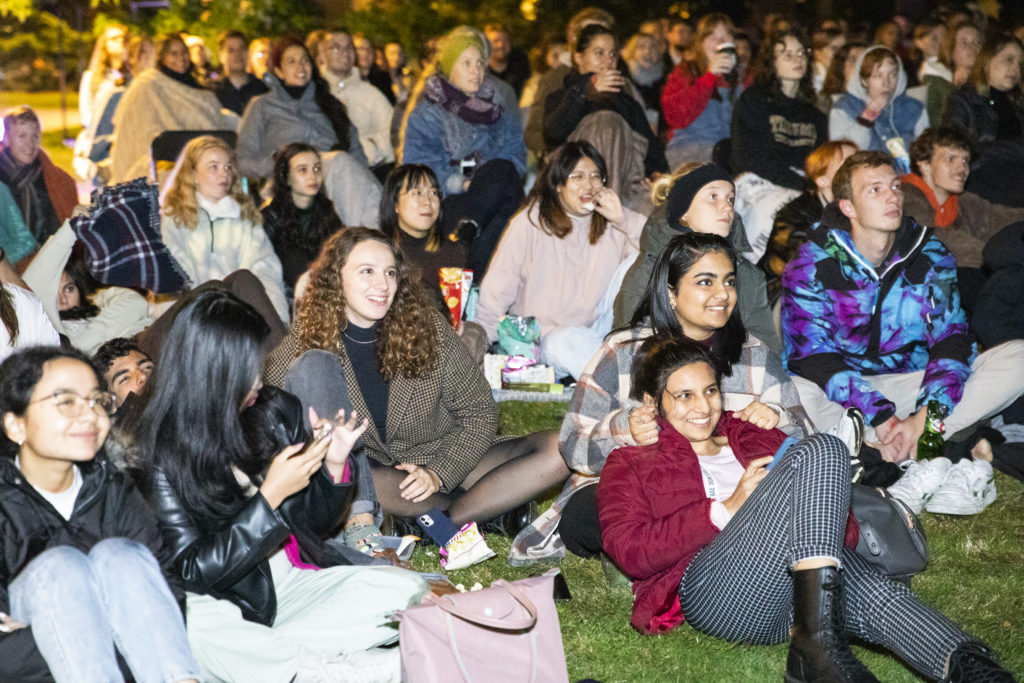 Because of the bad weather, the second and the last movie screenings were moved to the Auditorium. A pity, really. Because the atmosphere of outdoor viewing was obviously missing in such a large hall and the popcorn and other film refreshments also had to stay outside. Only bottles of water were allowed in the Auditorium of the Cobbenhagen Building. Still, that didn't dampen the fun – or the turnout.
"It was pretty chilly last week"
Despite the weather, the movies were very popular with a wide audience. "We are very satisfied. Last week we had about five hundred people outside on the field and that's a success," agrees Has Klerx of Studium Generale: "And it was quite chilly last week," he adds, laughing. And the audience didn't let that deter them this evening either.
The screenings began on Tuesday, Sept. 6, with the film Ex Machina, followed by The Worst Person in the World and The Imitation Game. The event concluded on Tuesday, Sept. 27, with Captain Fantastic. In it, Viggo Mortensen, best known for his role as Aragorn in the famous Lord of The Rings trilogy, plays the role of a father who lives cloistered in a remote forest with his children but cannot prevent the outside world from intruding into their isolated existence.
"I've seen this movie about six times"
"I've seen this movie about six times," says one visitor. "It's one of my favorite movies. It makes you think about our current society." By the way, visitors don't just come for the movies; the atmosphere of watching them together also lures many people to campus in the evenings. "We are just local residents," says one cheerful couple. "This is already our fourth movie and unfortunately it's indoors, but we get it, though. We come anyway because it's so wonderful to watch it together."
No blockbusters
Studium Generale deliberately chose not to include blockbusters in the program. "We want to program films that make you think a little, that you can identify with and that stimulate your curiosity," Klerx said. "So not that massive violence and not easy entertainment."
So, the event is worth repeating, although organizers are thinking about bringing the screenings forward one or two weeks next year, starting at the end of August. So that the chances of nice late summer weather will be a bit higher, and all the films can simply be screened outdoors.
Translated by Language Center, Riet Bettonviel