Law student Bram 'Crocodile' van Haaren finds unique fossil in Colombia
Law student Bram van Haaren is close to completing his Bachelor's degree in Global Law in Tilburg and has already made his first exciting scientific discovery. Remarkably, it is one in the field of paleontology. He found a fossil of a possibly hitherto unknown species of crocodile during a fieldtrip through the Tatacoa desert in Colombia.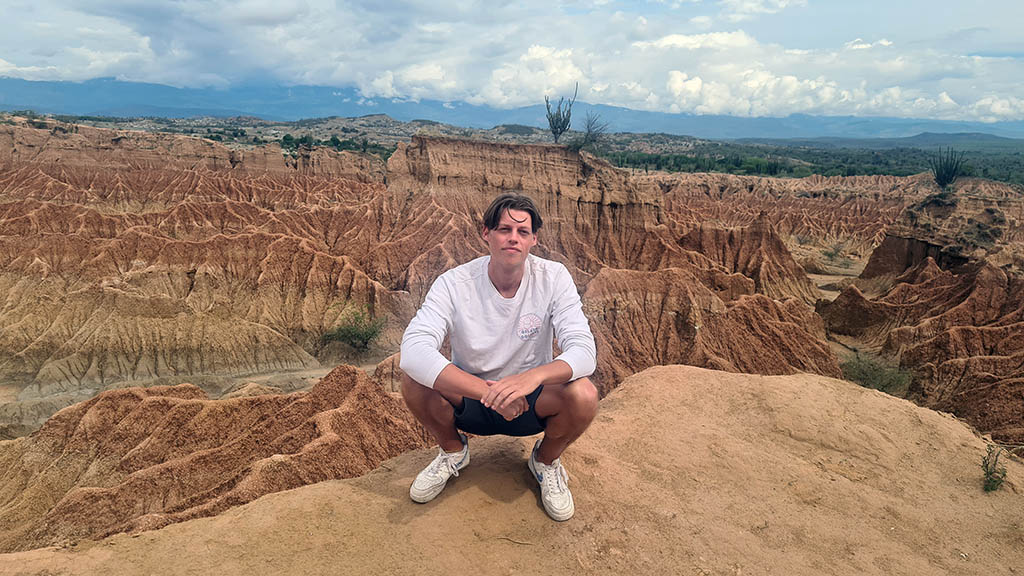 I'll take a break, thought Bram van Haaren (21), at the end of his Bachelor's in Global Law. And why not do that with an exchange in Colombia? "I did want to do something useful, like learn Spanish. And there were a few courses here that I really liked, which I started doing. Like Paleontology, but also Neuropsychology, Historia de Colombia, and Latin American Case Studies."
From Medellín, Van Haaren recounts his discovery: "My Paleontology teacher invited a fellow student and me to join him on a five-day field trip in the Tatacoa Desert. I thought it was a paleontology trip, but that turned out not to be true. It turned out we were going on a field trip with an ecology class. We mainly looked at ecosystems and we were explained about rock formations. We didn't specifically go looking for fossils."
Jokes
But even those who do not search can still find, as it eventually turns out: "One day we had been walking for seven hours in the burning desert and we were very tired. I wanted to make the other students laugh, so I said, I'm going to look for fossils. I borrowed a hammer from a fellow student and jokingly hit a rock with it. But when I looked down, I saw a stone. I didn't immediately realize it was a fossil. One of our companions, the director of a museum, saw what it was. A piece of skull with part of the spine of a crocodile."
Unknown
"He had never seen one like this before. It is probably something very special; he thinks it might be a completely new species. An unknown species of caiman that lived there 13 million years ago during the Miocene era. The fossil is now in that museum. Later, they went back to the site and found another piece that matches it. Around May, the most renowned caiman South-American specialist will go there to investigate them further."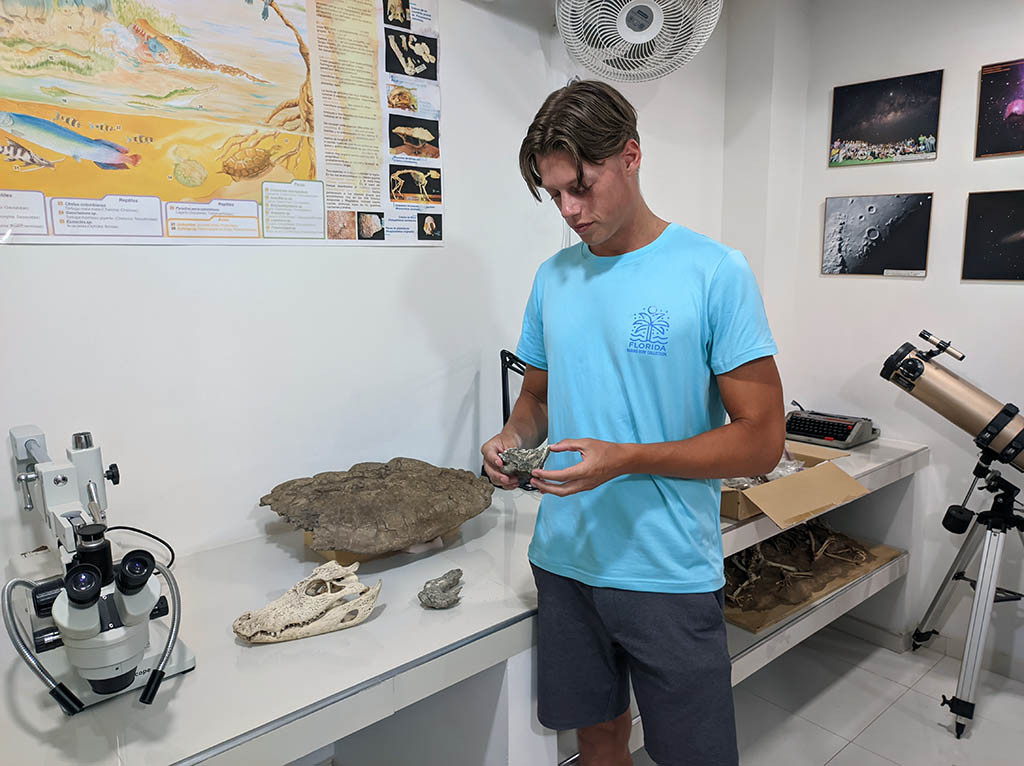 At least the find has ensured that Van Haaren no longer has to worry about the Paleontology course. "The teacher is totally a fan of mine now," he says. Still, he has no plans to delve further into bone digging. "It's very interesting, I learned a lot. Also about geology. But it's not something I would want to do all my life. I had chosen the course because I find dinosaurs very interesting. That was actually a bad idea because we haven't talked about dinosaurs once."
'I had chosen the course because I find dinosaurs very interesting. That was actually a bad idea'
Bram's exchange semester in Colombia ends in November. After that, he wants to travel around South America for a few months, or maybe Central America, "I don't know where yet." After that, a Master's seems the obvious choice, but he wants to think about that too. "It could be that I will come back to Tilburg, for Law and Technology," he says.
Made a name
By then, the Brabant jurist may also learn how special the fossil he found in the Colombian desert actually is. Is it actually of an unknown species? And if so, what will it be called? Van Haaren: "I don't get to decide that. They have told me that it is customary for a new species to be named after the person who found it or the site of the find. So there is a chance that this species will get my name."
Translated by Language Center, Riet Bettonviel