Iranians do not feel supported by Tilburg University: 'We feel excluded'
In a joint statement, Iranian-Dutch scientists and the rectores magnifici of six Dutch universities express their distraught at the current situation in Iran. TiU-rector Wim van de Donk did not sign this statement, despite the request of several Iranian students and employees at Tilburg University to show public solidarity.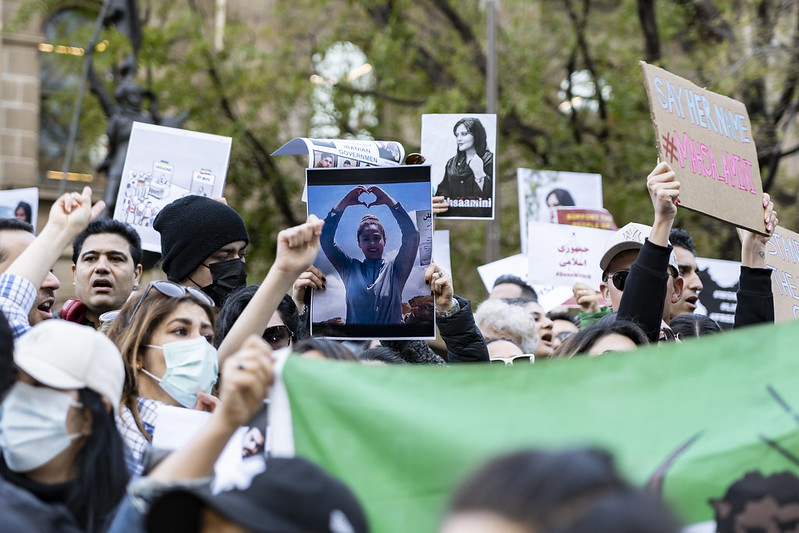 "We condemn the violence against students and academics as it took place in Iran", is written in a recently published statement by Dutch-Iranian and Iranian academics working in the Netherlands. "There are brutal attacks against students protesting in numerous university campuses and compounds across the country. We wish to express our solidarity with the students and academics in Iran and all students and academics in our community who have ties to the region and who are worried about their families and loved ones." In addition to the various scientists, six Dutch rectores magnifici also signed the statement, including Han van Krieken (Radboud University), Annelien Bredenoord, (Erasmus University) and Peter-Paul Verbeek, (University of Amsterdam).
Tilburg University rector, Wim van de Donk, is not one of the signatories. When asked, university spokesperson Imre van der Meulen informed Univers the following about this decision: "At UNL (Universities of the Netherlands ed.) it has been decided not to issue a joint statement on behalf of all universities about the situation in Iran. We are still complying with that earlier decision." Van der Meulen also says that they have "communicated internally" with Iranian employees and students of Tilburg University.
This internal message, in the form of an e-mail that is also in the possession of Univers, expresses support and sympathy to the various Iranian students and employees of Tilburg University. However, this gesture has not been received positively by everyone.
Not our place
In the statement, the university, on behalf of the Executive Board, announces that Tilburg University condemns the brutal violence against students and academics at (among others) Sharif University: "Unfortunately, there are still many places in the world where diversity is seen as a threat. Where people who make themselves heard, who do not conform, are not safe. It moves and upsets many in our community, especially those who have connections to the region and who are worried about their families and loved ones. We sympathize deeply with everyone directly or indirectly affected."
Although the university says it is shocked by the events in Iran, it also says that it does not think a public statement is the appropriate response. "Even though we are deeply moved by the current events in Iran, we feel it is not our place to make a political statement by formally posting a statement of solidarity on our website. We want to emphasize that individual employees and students who are directly or indirectly affected are supported by Tilburg University. Employees can turn to their HR advisors and students to their Education Coordinators or the Deans of Students."
'Even though we are deeply moved by the current events in Iran, we feel it is not our place to make a political statement'
For Ammar Maleki, assistant professor of Comparative Politics at Tilburg University, the lack of a public statement is difficult to understand: "This is disappointing since the moto of Tilburg University is "Understanding Society," and I assumed that the term society here should have a broader meaning than only Dutch society or European societies."
An Iranian bachelor student, who for security reasons only wants to respond anonymously (name is known to the editors, ed.), is also left with a feeling of disappointment: "We, and by that I mean all the Iranian people I know at Tilburg University, were very disappointed when we got the email. I really like this university and I am grateful for the chance to study in such a good institution like this, but I really don't understand the university's statement. It was very frustrating for all of us. After all, these are the people who teach us about racism, diversity, and discrimination."
The student says he did receive very warm reactions from individual TiU-employees. "A professor gave us ten minutes of her lesson to talk about the situation in Iran and inform other students. Another professor sent me an e-mail at the beginning of the demonstrations saying: 'Let me know if you need someone to talk to, I'm following the situation in Iran.' They've all been amazing."
Feeling excluded
What is particularly puzzling is that the university has previously openly expressed its support for students and staff from Ukraine when Russia invaded their country. And that the university recently showed support for the Orange the World campaign against violence against women. Moreover, there are other Dutch universities that do speak out clearly, such as Erasmus University in Rotterdam, Radboud University Nijmegen and the University of Groningen.
"This is a form of hypocrisy. Tilburg University should say that it does not take a position in any of these matters and distances itself from all these kinds of situations. If they respond to one, they cannot simply ignore the other," the Iranian student explains. "It feels like discrimination against Middle Eastern students. If something happens to European people they care, but if something happens to us they don't. We feel excluded."
'If they respond to one matter, they cannot simply ignore the other'
Assistant professor Maleki also expects a more engaged response from a university that is committed to global social issues. "If Tilburg wants to be a real international university that aims to contribute for a better world, it sad to see that the rector doesn't clearly stand with people who fight for the rights of women, life, and freedom in a country that has suffered from gender apartheid under a brutal theocratic regime for 43 years. I think Iranians deserve to have such support that South Africans had in the fight against the apartheid regime."
Tilburg university has not answered questions from Univers about their reasons for responding differently to the Ukrainian and Iranian situation. It does indicate, however, that the Orange the World campaign is 'completely in line' with their policy on social safety. "That is why our Executive Board considers it important to show that we support this international campaign", explains spokesperson Imre van der Meulen.