New campus poet Chinenye Oguejiofor: 'I want to give insight into students' feelings and emotions'
Student Chinenye Oguejiofor may call herself Tilburg University's new campus poet. In the coming year, she will provide campus life with poetic commentary through performances and publications. Chinenye takes over from Trijntje van de Wouw.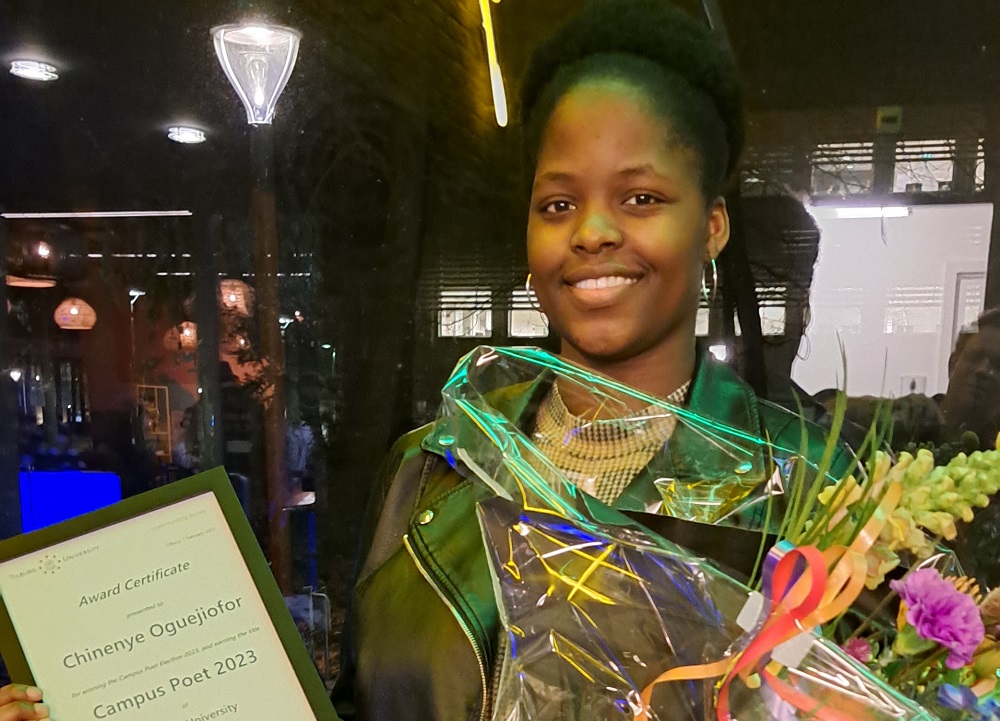 The Esplanade Café is jam-packed with students. And yet you can hear a pin drop. They listen attentively as Chinenye Oguejiofor recites a poem about her life as an international student: 'If I could swim across the ocean to see them I would / Yet I have to swim across the sea of seasonal depression / When I forget to take my vitamin D pills.'
But moments later, when Chinenye playfully recounts the struggle for a seat in the library, there is loud laughter. It is clear: the audience is enchanted by Chinenye's confident recitation and empathizes with every word.
Students' feelings and emotions
Chinenye Oguejiofor is a third-year Global Law student. And since Thursday night, she is also the campus poet. Next year, she will be the poetic voice of the university, and she is thrilled about that. Chinenye: "As the new campus poet, I want to provide insights into students' feelings and emotions. Occasionally, these may be insights that apply especially to international students, but I want everyone to feel that I am giving them a voice, including my own."
Humor is an important ingredient in this for Chinenye: "It would also be great to make people laugh from time to time."
Sincerity
Six students competed for the title of campus poet 2023, five of whom took the stage Thursday night. The performances were diverse and personal; the audience was enthusiastic. Chinenye's win also marked the farewell of Trijntje van de Wouw, the 2022 campus poet. She waved goodbye with a final recitation and heartfelt advice to all poetic students: "Stay true to yourself and be sincere in your writing."
The election of the campus poet was organized by Studium Generale. A professional jury judged the poems and the quality of the performances. The jury consisted of Has Klerx, Suzanne van der Beek, Siebe Bluijs, and Bart Smout.
The new campus poet will receive a stipend of five hundred euros and will be featured regularly during activities on campus. Univers will also regularly publish poems by the new campus poet.
Sick From Home
They should have warned me about the time
The time spent wishing
The time spent wanting
The time spent crying
Someone should have told me about the prices
The price of rent and energy bills
The price of food and transport
The price of not seeing loved ones for years while sacrificing to achieve your dreams
If I could swim across the ocean to see them I would
Yet I have to swim across the sea of seasonal depression
When I forget to take my vitamin D pills
I call. When I can
When I can muster the strength to hold back tears
And can pick my thoughts up from the dampness of my pillow
It's not all bad, I have a community in Tilburg
I have a family member here
I even have friends! My mom would be so happy to meet my friends
But my friends can't meet my mom
I mean they can call her but no one ever really talks about the non-monetary price of having to leave
home
At first the well of emotions draws you in
You're free!
But then you begin to miss the noise, miss the chaos, miss the lack of time management
I wish someone – anyone would have told me
Even the immigration official could have said
"Hey! Little girl, it gets cold over there"
Cold? That's alright I can just get a jacket
No, it gets really cold
The kind of cold you only feel in your soul
The kind of cold that only the African sun can heat up
The kind of cold your mother's warm hugs make you feel
Translated by Language Center, Riet Bettonviel