Education after COVID-19: back to the lecture halls or is online education here to stay?
The coronavirus period brought about unprecedented changes in education. Never before has there been such a rapid and massive switch to digital forms of education. But what does the education of the future look like at TiU? Are we all returning to the lecture halls or is online education here to stay?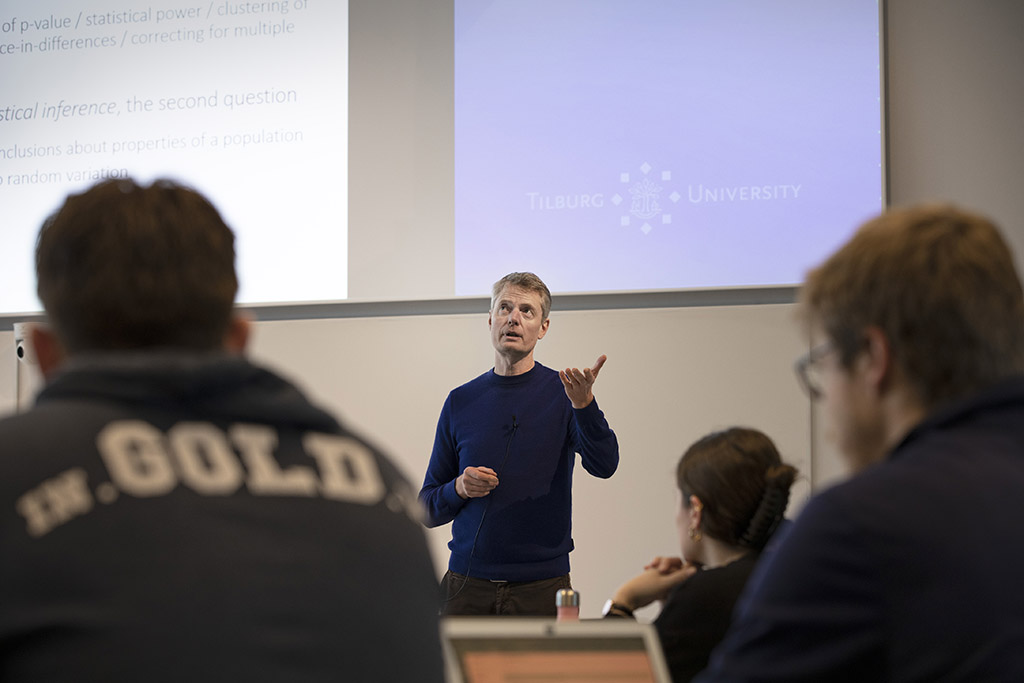 We are halfway through a new academic year, a year, for once, not interrupted by a lockdown and mandatory online lectures. The Executive Board has chosen for the lectures in the academic year 2022-2023 to basically take place on campus again. There, students and lecturers can meet. For many students, this means a return to the old way of studying: back to lecture halls and face-to-face education.
In itself, this is a good development because during the last lockdowns, student-lecturer contact was minimal. On the other hand, the lockdowns also offered enormous opportunities for educational innovation. And many students thought it was just fine: sitting at home watching lectures on a screen.
Student experiences
'It took getting used to going to the university every day again, after two years of mainly working from home. We had to get back into the routine,' observes Joost Lamers, chair of student party SAM.
At the same time, he sees that students are happy and relieved to meet their fellow students and peers again: 'There is much more interaction among each other now. And that's good because you also learn from each other. You talk to people from other programs again. Before COVID-19, I used to have lunch with fellow students from other study programs. That was very normal, it broadened your horizon, there was more time to reflect.'
On the other hand, students also experienced the benefits of online education, Lamers observes: 'Lecturers were broadcast live but also recorded. We could schedule our own time much more than before corona.
'Students could decide for themselves at what time they would watch the lectures again,' observes Marinka Hack of student party Front as well: 'Many students got used to this new routine, which made it easier for them to combine their studies with other pursuits, such as a side job, sports, and cultural or board activities.'
Taking a breath
Vice-Rector Magnificus Jantine Schuit acknowledges that the experience with online education has yielded useful new insights: 'For each part of a study program, we want to review what choice to make regarding the best didactic format. Because digital technology can also provide opportunities for lecturers.'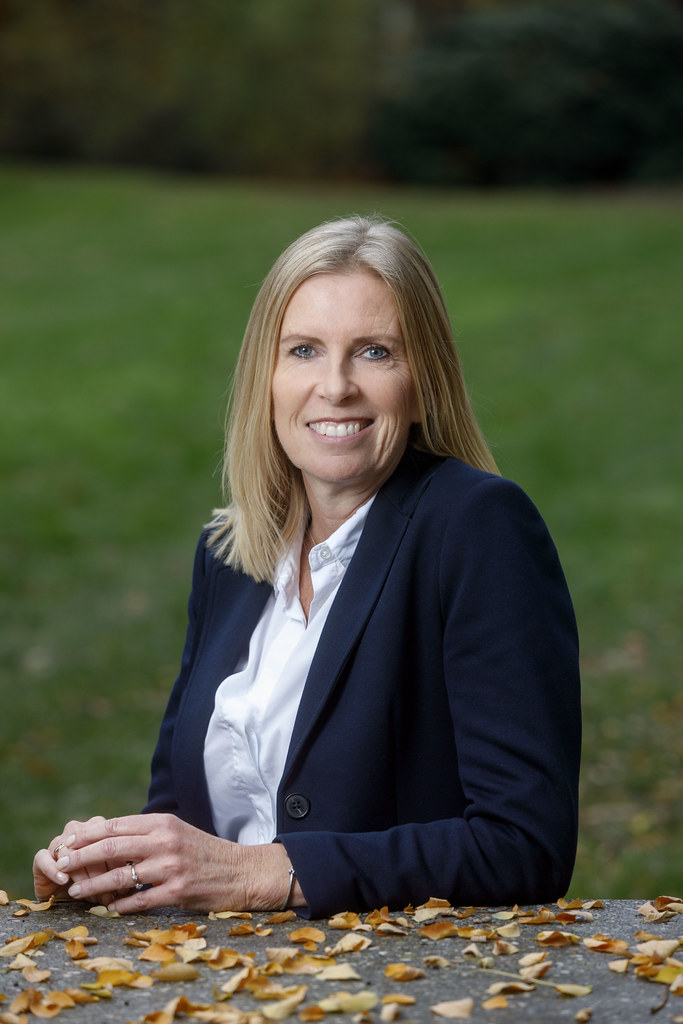 Schuit: 'If you offer digital working formats before you have students come to a lecture, for example, with a short knowledge clip or a game, then you can use that pre-acquired knowledge to engage in conversation during a physical lecture.
Sander Bax, brand new full professor and co-author of the university Strategy presented last year Weaving Minds and Characters, adds: 'For a lecture series that consists mainly of lectures in which 'sending information' is the main goal, it would sometimes be better to redesign.
'For example, to a course in which knowledge clips are interspersed with smaller-scale seminars in which the lecturer makes the students think actively about the subject matter. In that case, four hundred people in a room no longer all have to listen passively to a lecturer.'
But for now, lectures on campus remain the norm. The Executive Board wants to take the time to properly develop and gradually introduce educational innovations. In the university Strategy, 2027 is the dot on the horizon, the year the university celebrates its centennial.
Bax further explains this vision: 'We are not of the one size fits all model. We want to analyze all study programs in a cyclical approach up to 2027: where are the bottlenecks, where are the opportunities? And then the Schools can decide for themselves at what pace and in what order they want to tackle educational innovation. So it is not innovation for innovation's sake, but innovation to improve education.'
Time enough?
But is that time available? Meanwhile, it seems like technology is catching up with education. For student party Front, these developments are not going fast enough. After all, most current students will have graduated in 2027 and do not want to wait another five years for educational innovations.
Front wrote a letter to the Executive Board in December 2022 in which the party advocates flexible education: 'The current implementation regarding blended learning is a good step towards digital education that suits the state of the times. However, we believe that digitalization can somehow be implemented earlier within the study programs and that a middle ground can be found between full physical attendance and the implementation of blended learning in the future.'
Front fears that the implementation of the new educational strategy will take too long. And, therefore, fights for an interim solution: 'Record lectures and make them available online shortly before the start (at least two weeks) of examinations. This gives students reference material to better prepare for examinations, but attendance, participation, and interaction during lecture weeks is still guaranteed.'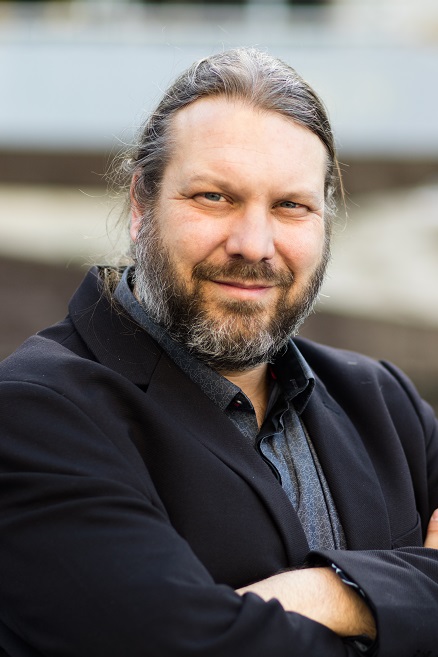 The EB does not think such an interim solution is a good idea. Jantine Schuit: 'For us it is really about the quality of education. We think it is extremely important to work on community and character building. You do that in interaction with each other, not just via a screen.
'Moreover, we are already in the process of 'blending' our programs, so it's not like it won't be implemented until 2027. It's up to the program to determine whether the recording of the lectures is suitable for this.'
Bax agrees: 'The design of education should always be reasoned based on an educational vision, and not from the practical consideration that it is more convenient for students for their daily schedules.'
Blended learning
Yet the Board is not blind to the opportunities that online education may offer in the future. 'Blended learning' is a term that you hear incessantly. Sander Bax: 'During the lockdown, we experimented an awful lot with remote education, and gained an awful lot of expertise. We also set up all kinds of support resources during that time, a Teacher Desk for example, a desk where lecturers can ask questions about digital educational tools and which provides support for hosting online and hybrid sessions on campus.'
The university does not want to simply let go of this newly acquired expertise. Jantine Schuit: 'We want to further develop the concept of blended learning at the university. And that is not the same as online learning. We don't want an Open University model where students only follow online education. Because we have a beautiful campus. We value character building, to a sense of community. But at the same time, we do want to give digital innovation a place in education.'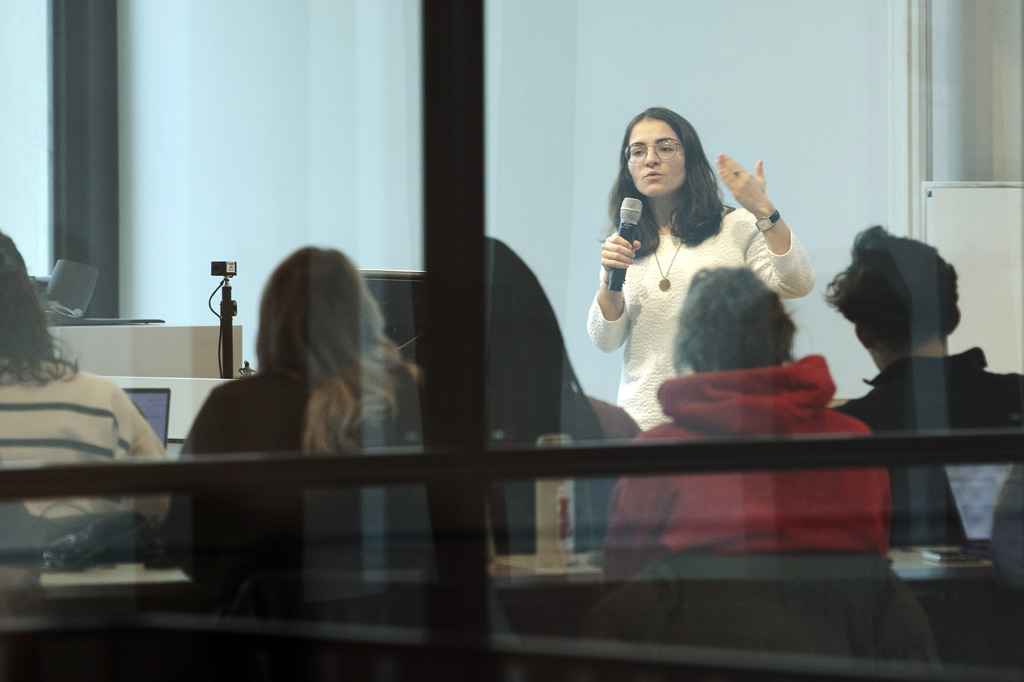 Sander Bax: 'Blended learning is very suitable for that because that means you seek the best possible interaction between education on campus in a lecture hall and what students can do digitally at their own pace. We now have specialists running around in all sorts of places at the university who think about redesigning and improving education together with lecturers.'
ChatGPT
Meanwhile, education is already facing a new challenge: ChatGPT. A 'writing bot,' or language model that generates entire texts based on a short question. A phenomenon that made its appearance in late 2022 and has the potential to turn education upside down yet again.
A recent tour of (in Dutch) the campus reveals that students are also using this technology to improve their writing skills. You can view this both in a positive and in a negative way. As long as you use it as a tool, it is similar to a tool like a calculator. But as soon as it deters students from formulating properly and thinking for themselves, things go wrong.
Sander Bax: 'I think your job as an educational institution is not to panic about ChatGPT. Instead, be curious and think: what does this mean for education? It forces us to think: what are we actually asking of students? Perhaps the advent of ChatGPT will force us to pay more attention in education to reflection and critical thinking about the subject matter.'
Tuned-In
Jantine Schuit: 'We have started a new university-wide program, Tuned-In. In this program, we are going to look at how we can share the knowledge that all the individual lecturers and Schools have gained about innovating (online) education. There is a positive recommendation from the University Council, so we are actually going to start it now.'
An open attitude is important here, according to Schuit: 'We shouldn't fix too much in advance. COVID-19 has taught us that we have to be more adaptive. We need to be able to respond more to new developments.'
Translated by Language Center, Riet Bettonviel