Unexpected demonstration on campus: students ask awareness for Israeli-Palestinian conflict
Students protested at the university by hanging a banner and a Palestinian flag on the bridge leading to the library. It was not long before security made them take it down.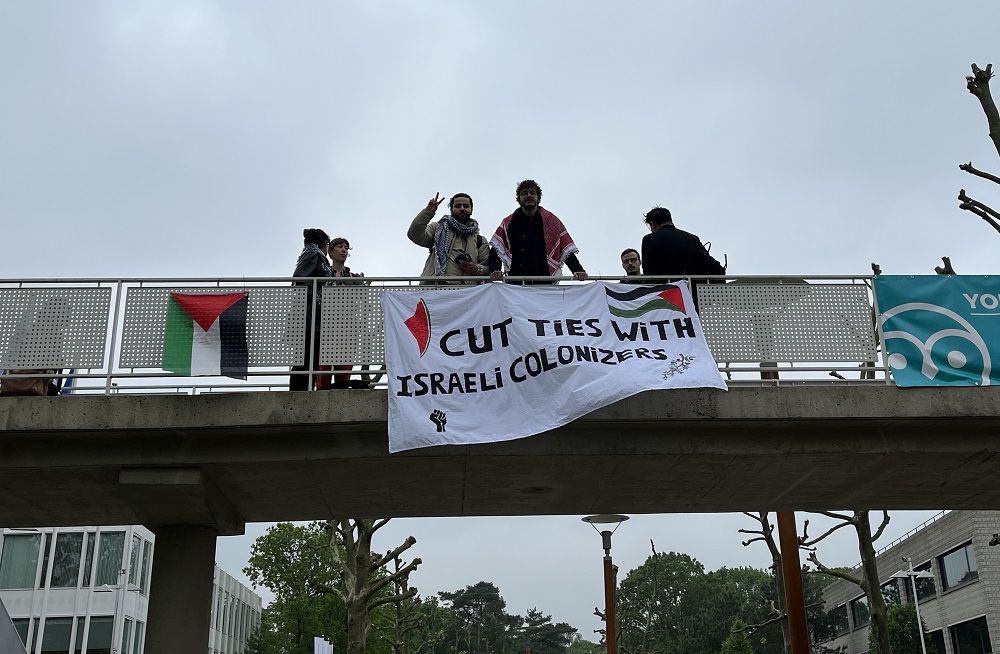 Three Global Law students hung a banner reading 'Cut ties with Israeli colonizers' and a Palestinian flag right next to it, on the bridge leading to the library. Their main goal was to raise awareness about the ongoing conflict that to this day sheds the blood of lots of innocent people. Additionally, they wanted to force the University to take a stance in this situation.
Reason for the protest is the commemoration of the so called Nakba: a Palestinian word for disaster or catastrophe. Today marks the 75th commemoration of the destruction of the place Palestinians once called home. The Israeli-Palestinian conflict has been going on for three quarters of a century now, and Nakba encapsulates the ongoing persecution and occupation of Palestine. In 1948, an estimated 700 thousand people had to leave their homeland forced by the Israeli army and their allies.
The banner was taken down by the protestors after around 30 minutes, after an urgent request from campus security. Although it didn't take a long time before the students and banner were gone, people still had a chance to see it from afar and talk to the demonstrating students.