Reducing his meat consumption sparked an idea for Sven's business: 'I had the idea and I just brought it to life'
Studying Entrepreneurship and Business Innovation provides many opportunities that can quickly turn your business idea into reality. Sven Correia started his company myTofu to bring something new to your table, while being innovative and eco-friendly in the process. With myTofu he won the Business Ready Award at the Tilburg University Challenge.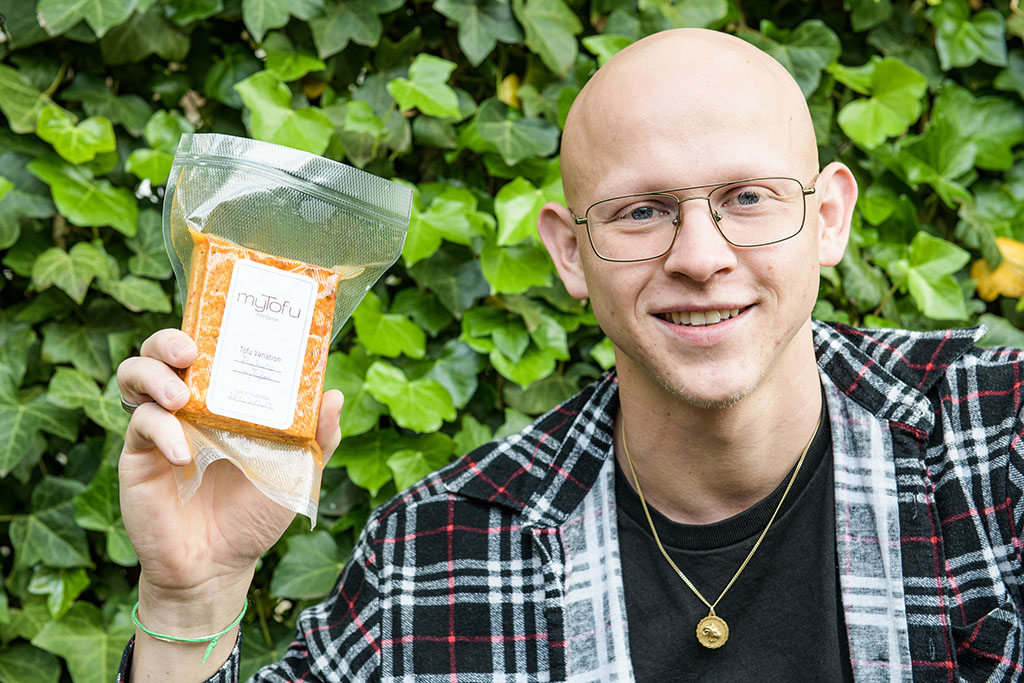 Can you tell me a bit about myTofu and how you came up with the idea for your business?
I launched myTofu in 2021 when I began to reduce my meat consumption, mostly because I care for the environment and I don't want to support the meat industry. I then started to use tofu more often and encountered the problem of flavoring it and cooking with it, which was always quite difficult. That's when I started thinking of a solution to this. And then one day I came up with the idea, okay, when you add flavor to the tofu while producing the tofu, it will probably make it better. So, I started experimenting and thinking about how to add the flavor. It turns out that basically it's like adding vegetables and spices to a meal. My products are already well-flavored and ready to eat right out of the packaging.
Do you produce the tofu at home?
Currently I'm still producing it out of my student kitchen. It's always fun to produce it at home, but I'm hoping to find a proper production site that would undoubtedly enhance every aspect of the production process. When it comes to delivery, it usually happens here, on campus, since most of my customers are students. Intermezzo is where I store all of myTofu. However, I sometime do home delivery by myself.
The 2023 Tilburg University Challenge was awarded to three innovative business plans by student teams. During the finals, the Ideation Award went to Giulio Tosato, Cesare Maria Dalbagno and Francesco Fumagalli of BCI-magicians. The Business Ready Award went to Sven Correia of myTofu. The Audience Award was won by Krzysztof Trzebinski and Jakub Janczak of Thirsty Sustainable Clothing. More than 60 teams have worked to develop an idea into a business idea and perhaps even a start-up.
Did you come up with the production process yourself?
Yes, it's a home-made production process which I perfected over the past one and a half year. A lot of different steps were added over the past months in order to make the taste and structure of the tofu even better. I am working on a new process to produce more, but I'm not going to talk about it more, company secret, you know. Making tofu, everybody can do it at home without any special cooking equipment except a tofu press. That's it, besides the actual ingredients, of course.
Why did you decide to start myTofu as a Tilburg University student?
Since I'm an Entrepreneurship and Business Innovation student, I always had the aim to start a business. To be honest, it just happened. I had the idea and I just brought it to life.
So, the university helped you? The course you're following puts a strong emphasis on student-owned businesses.
I have a bit of a love-hate relationship with my studies. I mean, I like the freedom they give you. Some courses in the program are, in my opinion, not really necessary, but studying entrepreneurship has lots of positive aspects to it. What I can say is that the course helped me to reach the right people, surround myself with the people that have the same mindset, basically helped me with networking. If you're around the right and like-minded people, you come towards your goals faster. You constantly push each other to do better and it's just a nice environment to start a business in and get the support that you need.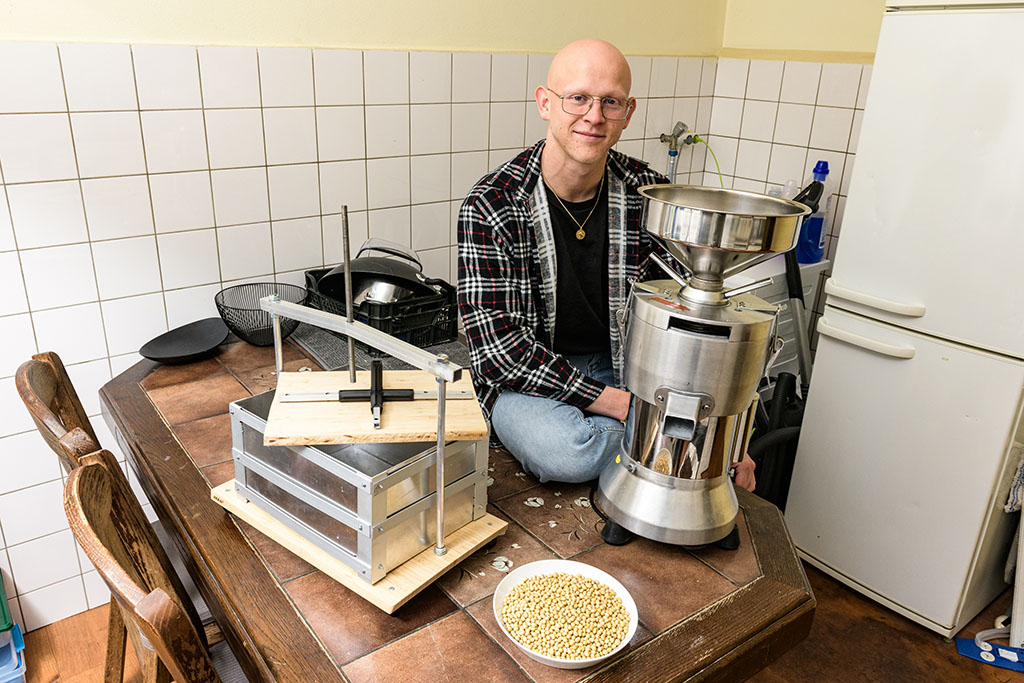 Did you experience any hardships or obstacles when starting a business while still being a student?
Of course. You need to have time to do what you're doing. With myTofu, producing tofu requires a lot of work and it's the most time-consuming process. This weekend I produced around 15 kilograms of tofu, and it took me and my associate around 30 hours of work. It takes a lot of time, but the reward can either be huge or very small because you might end up with a product that you don't want. For example, what happened this weekend is that one production of the Chinese-flavored tofu went really well but there was a problem with other flavors. There's still a lot to learn. My future will be kind of shaped by myTofu and where the business leads me. I want to make it work. I want to make it successful. Ideally, I would have a separate production site by the end of 2023.
We are in the Intermezzo building right now. The IQONIC incubator is located pretty high up, what can you tell me about it?
The IQONIC incubator is a great environment to be in. You can come here every day, even during the weekends if you want to, you can work here. Having amazing people around you that are also driven to be successful entrepreneurs is really motivating. There are more businesses here in the incubator and this space can be used by start-ups connected to IQONIC. What was a great opportunity for me was getting some funding from the Social Startups Fund. It's a way for startups to receive funding, but only those which have an innovative idea and bear a social aspect to their company.
What are your thoughts on winning this year's Tilburg University Challenge?
The Challenge has been a nice surprise for me. It allowed me to pitch my idea to potential investors and meet new business connections. I did not expect it to be this professional, this engaging and exciting. Both me and my friends from Thirsty Clothing made it to the finals. The final was on the 23rd of May. It was an amazing experience and winning the Business Ready category was a huge accomplishment for me. It again shows that hard work pays off!
Would you have any advice for students who want to start a business?
Just do it. It's a fact because if you don't go out there and make something happen, bring your idea to life, you will never know if it works or not. For example, Krzysiek and Jakub from Thirsty could have also said, ah, it's too risky and everything. But they still went through with designing and producing their clothes making a profitable company out of it. It's the same with myTofu. I must keep on producing and learn how to make tofu. If I wouldn't be doing that, I would have never known that this has this much potential. In the beginning you often fail. But if you don't make that initial step, you will never find out if your idea is valuable, you know?