Tilburg students deliver the cooking adventure to your front door
Jonathan Park and Kilian Funk are two Entrepreneurship students who are all about providing the residents of Tilburg with a healthy and sustainable choice for dinner. With MISOA they want to offer a unique alternative to massive online food ordering and delivery companies.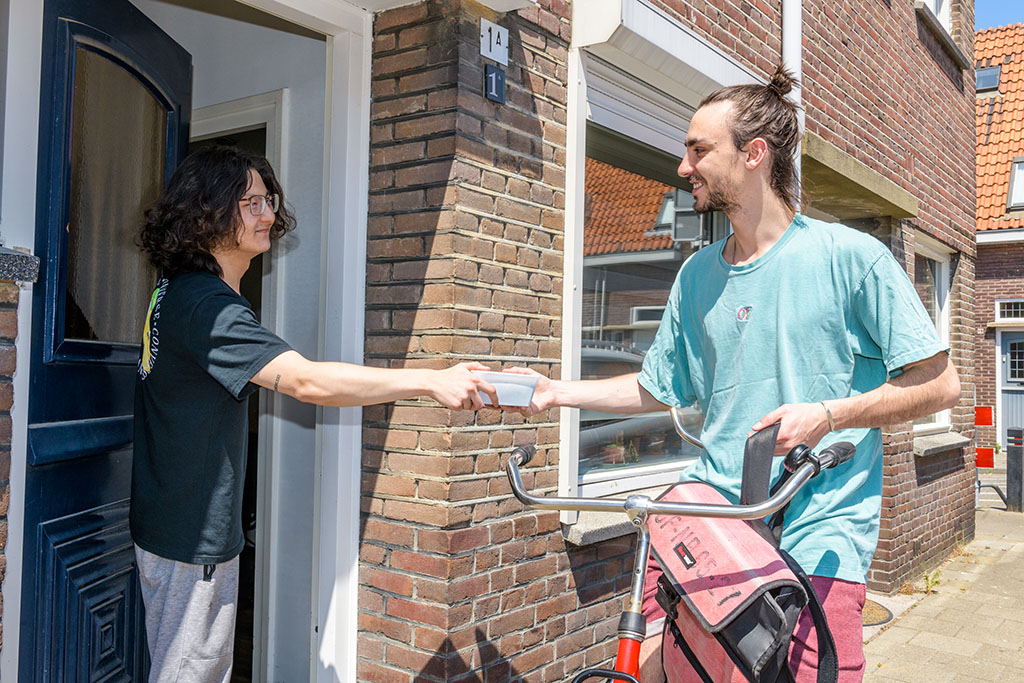 What can you tell me about MISOA and how you came up with the idea for your business?
Jonathan: 'MISOA is our take on the food market. We cook and deliver fresh meals each Sunday to our customers who live in Tilburg. Personally, I was always interested in cooking and worked in the food industry for almost three years. At first, I wanted to see how I can make some money and show off my cooking skills at the same time. MISOA is all about delivering the cooking adventure to your front door. We create a unique dish every week, a home recipe, a flavor not many people had a chance to taste. After two weeks of working on MISOA, Kilian approached me and we both thought: let's scale it up'.
Do you come up with the recipes yourselves?
Jonathan: 'We come up with the recipes ourselves, nearly from the scratch, and deliver the meals to our Tilburg customers by bike. By buying fresh ingredients every Saturday on Koningsplein Market we ensure that everything is made with organic products. We make a variety of dishes, ranging from dumplings and curry to Thai and Korean delicacies. As of now, I'm cooking and Kilian's delivering – we're at a stage called bootstrapping.'
Kilian: 'Bootstrapping is when you try to minimize the costs as much as possible and work with no or as little funding as possible. So, instead of hiring somebody to deliver, I'm doing it with a friend of ours. This way we can save some money and use it elsewhere.'
This means you don't have any external funding.
Jonathan: 'No, we don't. We cook and pay for everything ourselves.'
Kilian: 'Using the profits that Jonathan made in the first two, three weeks he was working alone, we bought the ingredients for the next dishes and spent some money on marketing. But it's mostly organic growth right now.'
Jonathan: 'What we offer our customers are a low price of €8.99 and a free delivery. What's also unique about MISOA is that we don't have a minimum price on the order or other fees.'
Kilian: 'We want to bring something new to the industry by having a dynamic menu, minimizing the food waste. Knowing that restaurants throw away a lot of food, we want to make sure not to do that. That's why we work with a pre-ordering system, so we know how many ingredients we need beforehand. Some time ago we also switched to a more sustainable packaging that is more expensive but fits our mission.'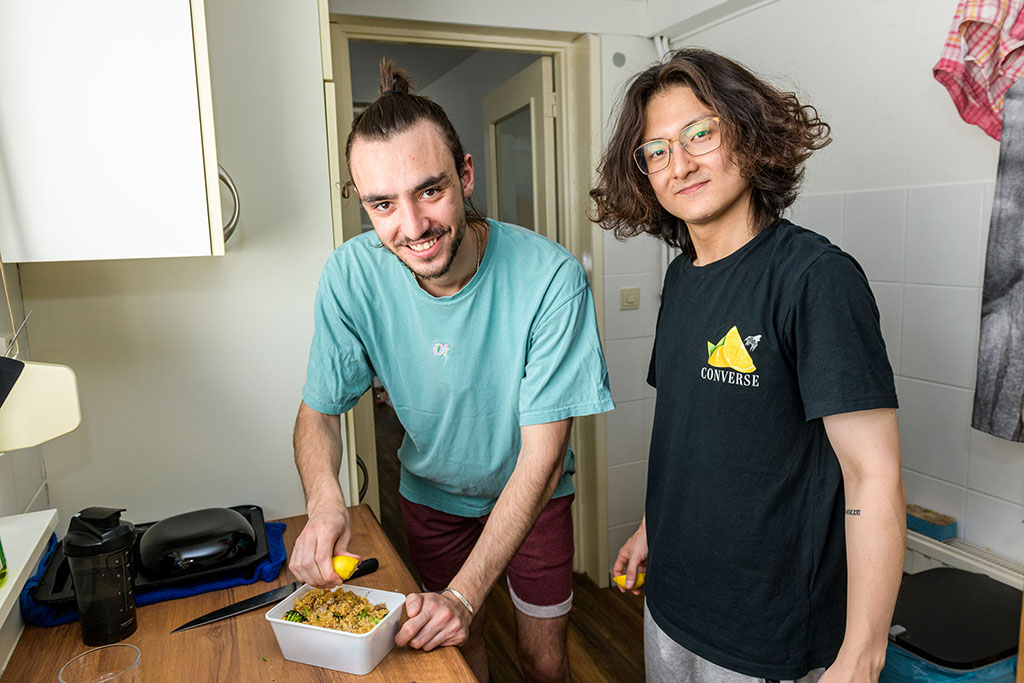 To what extent did the university or the courses you took help you?
Jonathan: 'If I think of myself two years ago, I would not be able to implement this idea at all because I didn't have confidence. I also lacked knowledge in many areas of entrepreneurship. However, I was already an experienced cook, but I haven't started working on MISOA yet.'
Kilian: 'I would say it's not really the content itself that helped, it's more like it shaped our mindsets. At the beginning we had a 'raw' brain that got molded into this kind of entrepreneurial machine. The things we learned during EBI have helped us think like real entrepreneurs.'
You also cook for vegans and vegetarians. Do people value that in MISOA?
Jonathan: 'It depends. Some people who eat meat won't buy a vegan or vegetarian option just because there is no meat in it. But our latest collaboration with myTofu proved that you don't need meat to create a burger full of taste. Everyone who tasted it loved it, which was crazy to us.'
Kilian: 'With the food that Jonathan makes, he wants to create something so good that people don't realize that the meat is missing. People told us that the myTofu burger tasted better than a regular one, which was also great news for Sven because he indeed makes amazing tofu.'
How long have you worked on MISOA so far?
Jonathan: 'I think it has been seven or eight weeks in total, but when we started to really focus and scale up the business, it has been over a month now.'
Were there any obstacles you encountered during those eight weeks?
Jonathan: 'First, we had to make sure that people trust MISOA, which I think was the hardest part. The customers know that a student is cooking this meal, but I identify myself as a chef to them. It was tough for me to demonstrate the fact that I worked in a restaurant as a head cook for more than three years. It's hard for us to deliver that message to them.'
Kilian: 'People always have lots of ideas and suggestions on how we could improve or scale your business, but it's just too much information at once. You cannot implement every idea people give you. We of course consider every tip we get, but in the end, we want to realize our own vision our own way.'
Even though MISOA is around two months old, you still might have some advice for students who want to realize their own business idea.
Jonathan: 'Be confident and proud of what you do. Love what you're doing because if you love what you're doing, you don't really care about what the consequences might be in case of failure. Passion drives customers that might be willing to support you, being loyal and devoted.'
Kilian: 'Just start. Don't think about the business plan. Don't massively consider your next steps. We're still just students. If you have a basic idea for a business that you know might work out, go ahead and give it a shot. Instead of making a big business plan, find a way for you to start tomorrow.'
Follow MISOA on Instagram at @misoa.tilburg