Tilburg scientists at A12 blockade: 'Stop fossil fuel subsidies'
Off campus, onto the highway. Tilburg full professors also took part in Extinction Rebellion's blockade of the A12 last month. Because time is running out. 'I want to send a signal: this can't go on like this.'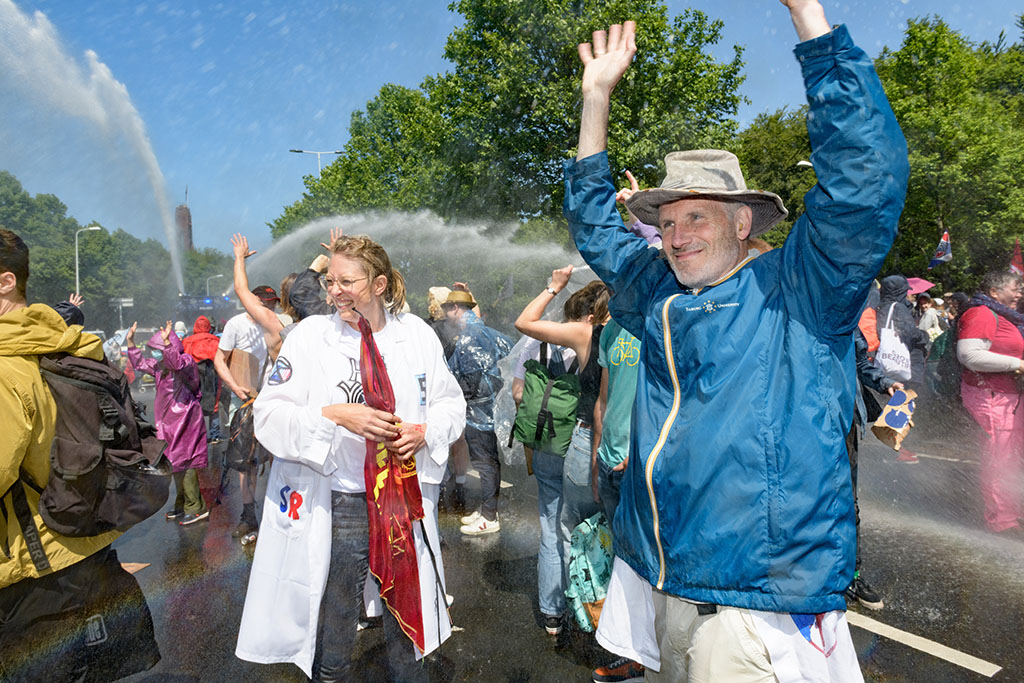 Scientists and water cannons. A combination that does not happen often. Yet Juliette Schaafsma, Marjolijn Antheunis, and Reyer Gerlagh now know what it feels like to be drenched by spraying by the police. 'The water cannon was not on hooligan mode, but it was stronger than the mist mode,' says Antheunis, full professor of communication and technology. 'I found it intimidating.'
For Gerlagh, it was the first time, Schaafsma and Antheunis participated in an Extinction Rebellion protest once before. The reason why the Tilburg scientists plopped down on the asphalt of the A12 on Saturday, along with thousands of other protesters? Simple: the limit has been reached.
Schaafsma, a full professor at the Tilburg School of Humanities and Digital Sciences, believes the sense of urgency is lacking when it comes to climate change. 'It will have a huge impact on future generations and on people in vulnerable positions. We need to act now. Therefore, as a scientist, I would like to send a signal: this cannot go on like this.'
Towards a fossil-free society
All three scientists agree that a stop to fossil subsidies is necessary. The Netherlands still supports the fossil industry with billions of euros. Along with a stop, there must be a clear and comprehensive policy for the transition to climate-neutral energy. Antheunis: 'You can do all sorts of things as a citizen to combat climate change: eat plant-based food, travel by train, you name it. And of course that helps a little bit. But as long as companies and governments do not participate fully, that individual contribution will remain a drop in the ocean.'
Climate economist and IPCC editor Reyer Gerlagh denounces the Janus face of Dutch politics. 'Politicians use an agenda of deliberate ambiguity. On the one hand they say: we act on climate policy and climate transition; we want to be green. At the same time they say to the fossil companies: don't worry too much, we will compensate you for the expenses.'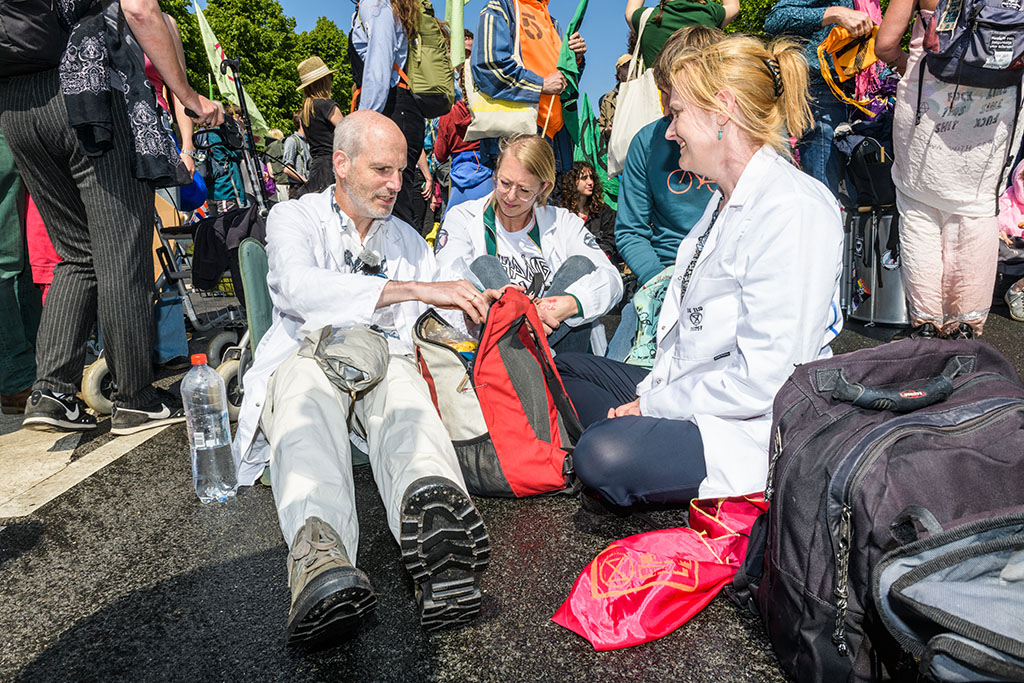 This duplicity does not help. The Netherlands must move to a fossil-free society as quickly as possible, according to Gerlagh. 'The goal is not: stay friends with industry. The goal is: become climate neutral as soon as possible.' Extinction Rebellion's demand, stop fossil fuel subsidies, is therefore well formulated, according to the climate economist. 'Immediately stop fossil fuels; that is difficult in practice. But stop the subsidies and you force fossil companies to come up with alternatives in a creative way.'
Nonviolent demonstration
More than 1,500 protesters were detained at the blockade after prolonged water cannon spraying. Still, scientists found the atmosphere during the demonstration to be convivial. Thanks to organizer Extinction Rebellion, which, Schaafsma says, prepared the participants well. 'It is a non-violent demonstration, which is very important to me. As a result, there is a friendly, positive atmosphere. The frame that is put on the demonstrators that they are troublemakers who must be dealt with harshly is, therefore, misleading in my opinion.
Antheunis also speaks of a good atmosphere. 'It is special that so many people from all walks of life come together to deliver a message in unison. As a result, you walk away afterwards with a hopeful feeling.' Although the police did not intervene excessively harshly, Antheunis does not think the deployment of the water cannons, rented from Germany, was necessary. 'An improper deployment of a heavy means. After all, there was no threatening situation.'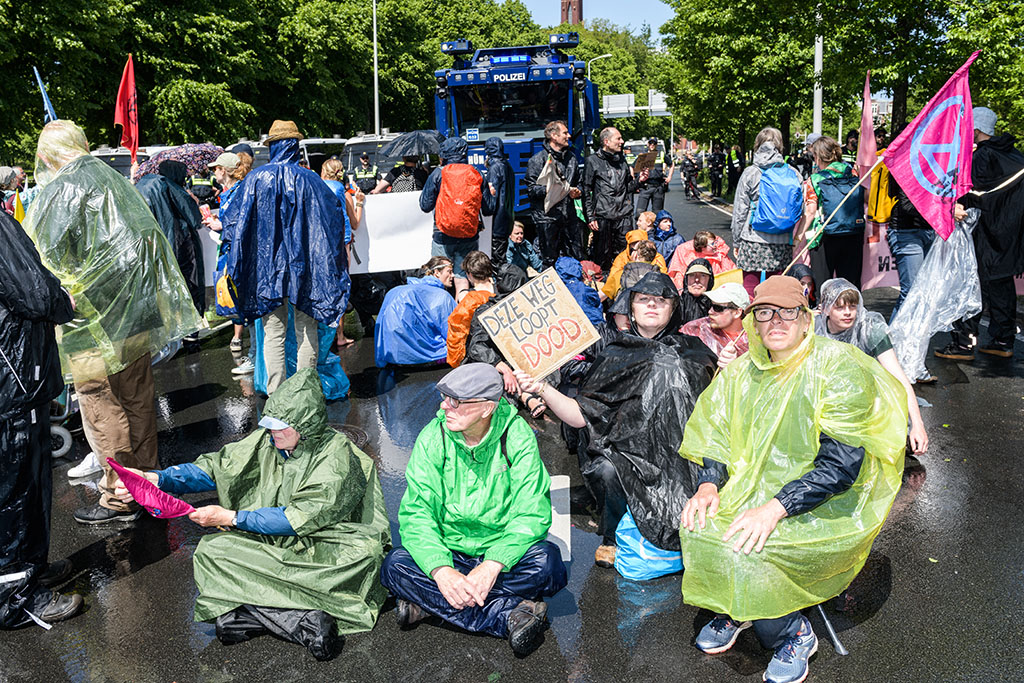 Whether the demonstration will have much effect, Gerlagh dares not say. He hopes that protest will encourage new ways of thinking. 'There are too many old white men at the top of business who are used to a pattern from twenty years ago. They made a company successful at one time and they want to repeat that trick.' These outdated ways of thinking, we have to get rid of them, according to the climate economist.
Protesting scientists
Scientists at a blockade of Extinction Rebellion, that also raises questions for some. Is it not contrary to scientific independence? Gerlagh says that, after the demonstration, he read all kinds of comments online about his presence. He was said to be a 'fake professor' who should be fired. Antheunis is clear: 'As scientists, we must always be neutral and objective in our work, whatever we do in addition. One does not exclude the other.'
For Gerlagh, participating in the demonstration is an expression of concern. 'Together with many others you show: I care about this; I think this is important.' And that's fine, Schaafsma agrees. Because always standing on the sidelines as a scientist, the full professor does not like that. It is a personal decision for everyone, but as scientists you are allowed to make your voice heard. We are often asked: shouldn't you remain neutral? But that is a misleading frame: we simply reflect the scientific consensus. Companies are, it seems, less critically questioned.'
Meanwhile, the clock is ticking. Schaafsma: 'It's as if a meteorite is heading toward the earth and too little is happening. That inertia bothers me the most.'
Translated by Language Center, Riet Bettonviel