The biggest cantus in Tilburg and other things you can expect from the TOP Week
The preparations for the TOP are in full swing. All that is left to do for the organizing committee is dot the i's and cross the t's. A good time to have a look at what the participants can expect during the introduction week.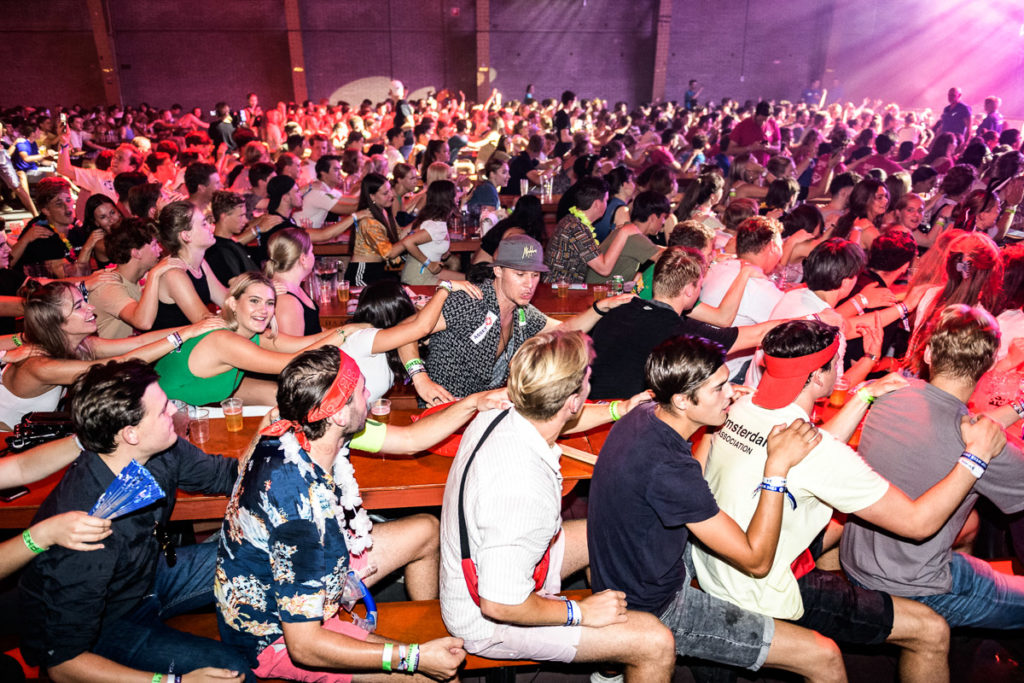 The TOP, the Tilburg introduction week, starts this year on August 21st. Throughout the week, about five hundred mentors will familiarize nearly four thousand new students with the city, the university and student life in Tilburg. It is up to TOP chairman Frank van Gaalen, vice-chairman Timo van de Vijver and their five fellow board members to steer this in the right direction and to ensure everyone has a wonderful week.
As far as they are concerned, the highlight of the week will the TOP Cantus on Wednesday. This big beery singalong brings everyone together for the first time in three years, instead of in two smaller groups. Van Gaalen: 'We now have a larger location, the Ireen Wüst Ice Rink, so we can do the cantus in one shift again. As an organization we are very proud of that. This makes us the largest cantus in Tilburg, even in Brabant.'
Graffiti
For vice-chairman Van de Vijver, the cantus has been the favorite part of the week since he himself participated in the TOP in 2019. But even people who are not allowed to drink or who do not like to drink and/or sing will not be bored that day, he assures.
'We always have an alternative event for people who don't feel like drinking, for them there will be a graffiti workshop. The nice thing is that the artworks that are made there will return as elements later in the week, for example as decoration at the final party.'
'We want to bring back things from the entire week at the final party in the Koepelhal,' adds Van Gaalen. 'Besides the graffiti, we want it to have the atmosphere and energy of the participants and the mentors during the whole week.'
Chill
It is always wise to come well rested to the TOP Week. If you like to party, there many opportunities to do just that during the week. In addition to the cantus, the opening and the final party, there is food at the student associations, a pub crawl, there are open parties, a day at a beach bar and the TOP Festival.
However, partying is not mandatory, and you certainly don't have to do it all the time. During the week there is also plenty of room to chill. The sports morning on Wednesday is not called Sports & Chill for nothing. Instead of doing the pub crawl you can see a movie at the outdoor cinema in the Spoorpark and if the opening party gets too much, just go the special chill room in the building next door.
Van Gaalen: 'Participants can take a break in the chill room. There are games with study associations. You also have to bear in mind that it is August and the Koepelhal can get quite hot.' Another quiet moment is the city walk on Thursday morning. 'During the TOP you have a lot of contact with associations, but the city remains somewhat underexposed. With a city stroll we want to give participants a tour, so that they get to know the city a bit.'