Free sports program for TiU employees
Boxing, tennis, fitness, yoga, swimming: sports enthusiasts know how to find their way to the Tilburg University Sports Center and can indulge in a wide range of sports. For all those people who find it more difficult to change their work outfit for sports gear, there is now a range of free sports lessons to lower the threshold to more exercise.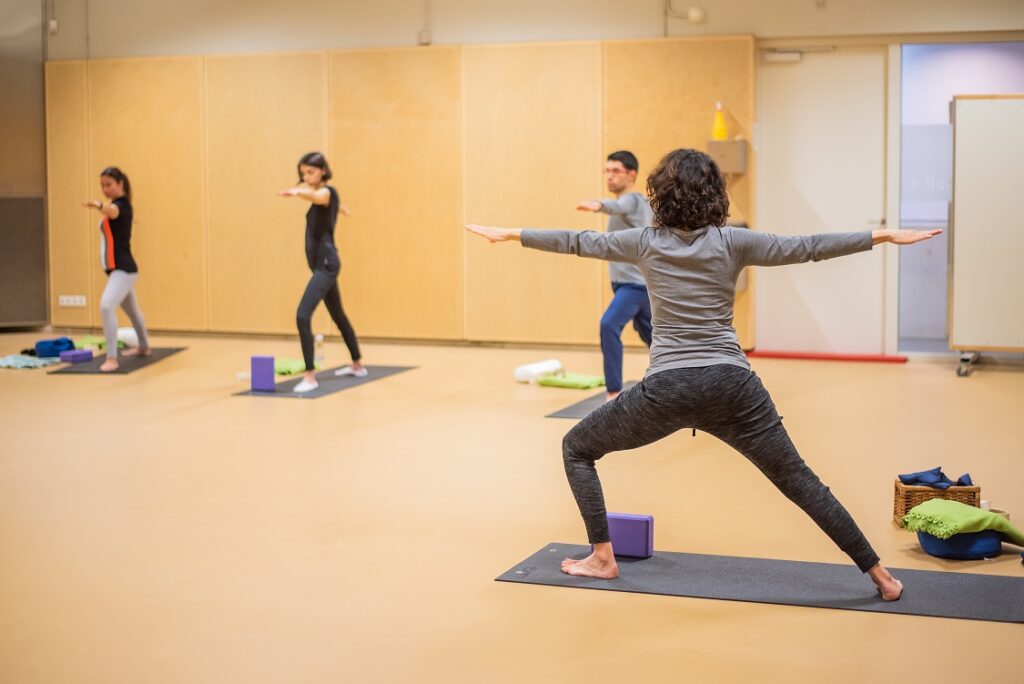 A fit employee who feels good about herself is often also a productive and creative employee, who is less likely to drop out. With this knowledge in mind, Tilburg University has been using the impact theme #Healthy Campus to encourage healthy behavior among its employees for quite some time.
In November, for example, the biennial Inspire (Y)ourself Week(a combination of Career Week and Health Week) was organized for TiU employees to find inspiration for a healthier life with activities such as vegan cooking classes, career talks, sleep workshops, and tongue analyses.
With a recently expanded free range of sports offered, the Tilburg University Sports Center hopes to do its part. "We already had a great program for employees with a Sports Center memberships," says Liedeke Dogge, coordinator of the Health and Lifestyle Program. "Now we also have a more diverse range of classes that don't require a membership."
So free sports lessons and something for everyone. This week, for example, a series of tennis lessons and a basic climbing course start. "We also have classes that run throughout the year and for everyone to join," says Dogge. "Such as the CANS classes, which focus on tensing and relaxing the muscles in and around the neck, shoulders, arms, and back. Many people have problems in these areas from working behind their laptops a lot."
There is something on the schedule every workday. Yoga or Pilates before the workday begins or badminton and mobility/stretching to end the day. "And on Tuesdays, you can check in with the online Fitbreak at noon, enjoy a half hour of exercise together with a combination of club yoga and stretching exercises," says Dogge.
Sports in coronavirus times
During the coronavirus pandemic, the Sports Center was closed for a long time, and Dogge notices that not all athletes have found their way back yet. "We see that, especially in terms of TiU personnel, it is still a bit quieter than before. That is probably also due to the fact that many people work from home. With students, it is already very busy again. In any case, the pandemic has shown how important sport is and how much people miss it when it is not possible."
Dogge, who herself teaches Pilates and climbing classes, among other things, plans to focus a lot of attention on the importance of getting more exercise during the workday in the near future. "Exercising extensively is fun, but it is also very important that we find ways to sit less during a workday. To prevent the body from getting completely cramped up. More movement creates more space in your body and mind."
To encourage staff and students to do some exercises during their working day, an exercise bench has been placed in front of the TiAS Building. The university is also located on a beautiful green campus, and as far as Dogge is concerned, we could make more use of that.
"Exercise in the open air contributes to a healthier lifestyle and a positive mindset, which in turn ultimately leads to more creativity and productivity and better cooperation. For this reason, we have set out the Workwalk in the old Warande forest. It is a walking route of about half an hour, during which you can have a meeting with your colleagues. The starting point is right across from the Faculty Club.
Inspired? You can find Tilburg University's Sports Center's free sports program here.
And here you can find an overview of the Health & Lifestyle program.