Food waste at the university: 'Food that is left over deserves a better use than the trash'
Donuts, sandwiches, and fresh fruit. At the end of the day, a lot of food is left over in Tilburg University's cafeterias. Two students saw the leftover food disappear directly into the trash and are raising the alarm: 'As long as we are throwing food away, the campus is not sustainable.'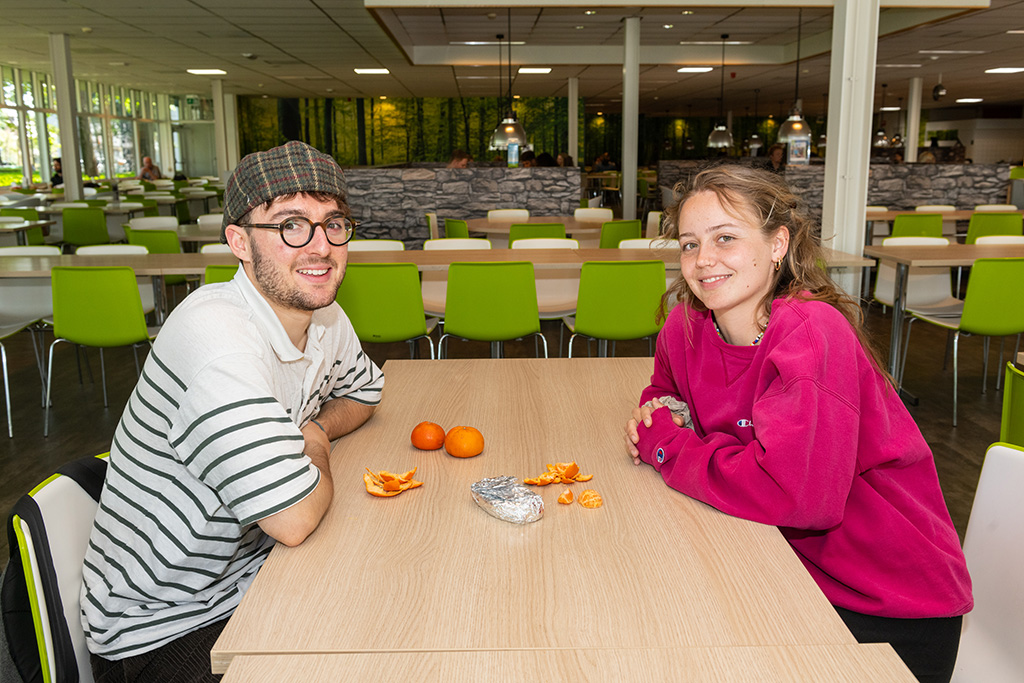 It is five o'clock in the afternoon on a normal weekday. Bachelor's students Beltrán Lara Rodríguez and Victoria Stefanou have been studying all day in the CUBE. Hungry, they walk to the building's cafeteria to buy a snack to silence their growling stomachs. To their disappointment, they are too late by minutes because the lady from catering is already cleaning up.
'What happens to all that food that hasn't been sold?' Beltrán asks her. 'We throw that away,' the employee replies. 'Then maybe I can have one of those muffins?' he asks, pointing to a pile of left over sweets. 'No, I have to throw it away. That's the policy,' she explains. A few seconds later, the muffin disappears into the trash along with a pile of sandwiches, a few bananas, and untouched smoothies.
Donuts in the trash
In disbelief, the students look at each other. To them, it is unimaginable that in these times when supermarket prices are skyrocketing, people are going to the food bank, and sustainability is an important issue, food is being thrown away.
'Tilburg University is committed to a sustainable campus, but as long as we throw away food on campus, there is no such thing,' Beltrán explained to Univers. 'That's why we decided to contact the university and CIRFOOD (the university's caterer, ed.). The leftover food at the end of the day deserves a better destination than the trash can.'
A better destination
For example, Beltrán and Victoria say, food could be even more actively offered in the Too Good To Go app (in Dutch). Through that app, people can buy unsold food from stores, restaurants, or catering services at the end of the day. 'Right now, CIRFOOD is far from offering all the leftover food from university cafeterias on the app. They could make many more people happy with all the leftover food. Also, CIRFOOD could offer discounted products at the end of the day: rather sell a donut for half price than throw it away, right?'
The two students also think it would be a good idea for the university and CIRFOOD to cooperate better with the Tilburg food bank, for example: 'I worked at a food bank in Stuttgart last summer. People who were tight on money were often extremely happy with all the food they received. It is far from obvious for everyone to go to school, work, or bed without hunger. People in Tilburg also go to the food bank. The fact that a few kilometers away at the university, food disappears in the trash, I find unacceptable,' Victoria explains.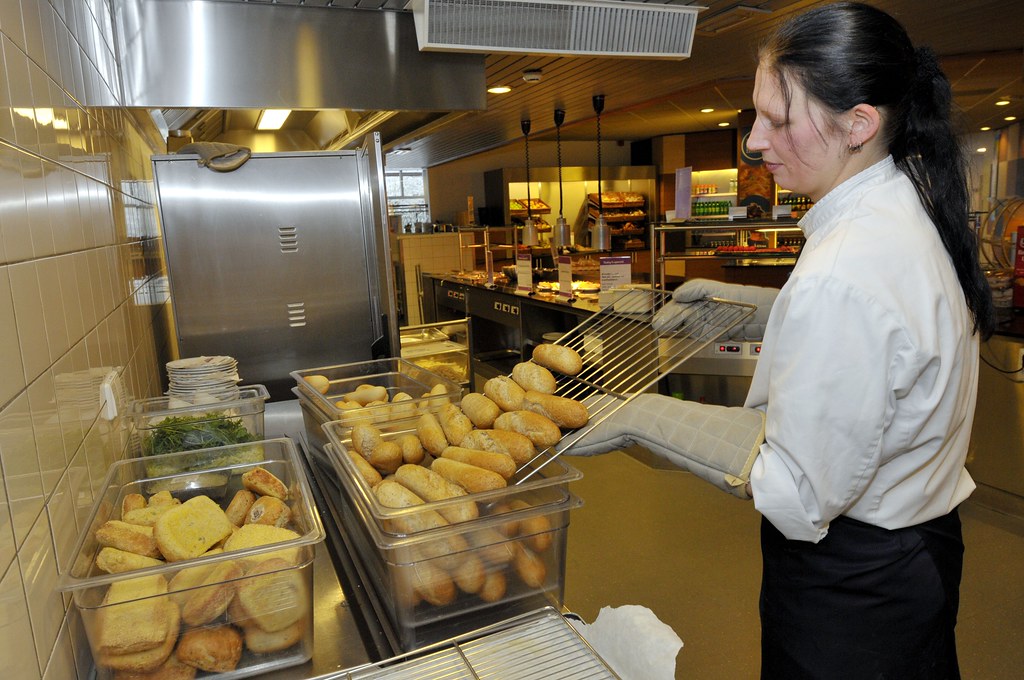 Netherlands Food and Consumer Product Safety Authority
But can all leftover food from Tilburg University's cafeterias just be given away to hungry students or the food bank? CIRFOOD district manager Matthieu van der Pool explains that this is not the case: 'We have to follow the rules of the Netherlands Food and Consumer Product Safety Authority. These ensure that people can safely consume the food sold (or given away). Not all the food left over at the end of the day still meets the requirements of the NVWA.'
'For example, presented sandwiches, sweet pastries, and other fresh snacks must be sold within two hours. If they are still there after that time, it is written off. That means we can't give them away for safety reasons and regulations either,' van der Pool explains.
Like the students, Van der Pool also finds it annoying to throw away food: 'With every product that disappears into the trash, we throw away a piece of profitability. From both a sustainability and commercial point of view, you want to avoid that.'
Every day, CIRFOOD monitors which products are left over so that they can respond to customers' needs as effectively as possible. In this way the company hopes to write off as few products as possible: 'If there is food left over and it is still saleable according to the requirements of the NVWA (in Dutch)? Then we sell it at a reduced price via the Too Good To Go app.'
Balancing
But according to Van der Pool, it remains balancing on a tightrope: 'On the one hand you want to waste as little food as possible, but on the other hand you want to remain customer-friendly. If we don't want to waste anything, we can only prepare food to order. In that case, there is a good chance that a customer will have to wait half an hour for a sandwich or a hot meal,' he explains.
'Students, staff, and other visitors to the catering outlets don't have that time. Moreover, the price of a sandwich becomes a lot higher because it requires a lot more staff who can prepare orders at a moment's notice. Who wants to pay seven, eight, or nine euros for a sandwich?'
Still, Van der Pool does care about the students' concerns: 'We only write off three percent of the food purchased. Compared to other industries (catering services, hotels and restaurants, supermarkets, or specialty stores, ed.), we do quite well: there the depreciation is often much higher. Yet I always want to think how we can do even better because that is one of the most important pillars of our sustainability vision. So I warmly invite the concerned students for a cup of coffee to think together about how we can waste even less food'.
Translated by Language Center, Riet Bettonviel