Tilburg Young Academy: more focus on sustainability in education
Sustainability needs to be higher on Tilburg University's university agenda. This is the conclusion of researchers Anne Lafarre and Floor Fleurke in their contribution to the recently published book: The Good of the University. Critical Contributions from the Tilburg Young Academy. "Right now, sustainability questions are the biggest issues for our society, then you expect to see that reflected in the programs' curricula."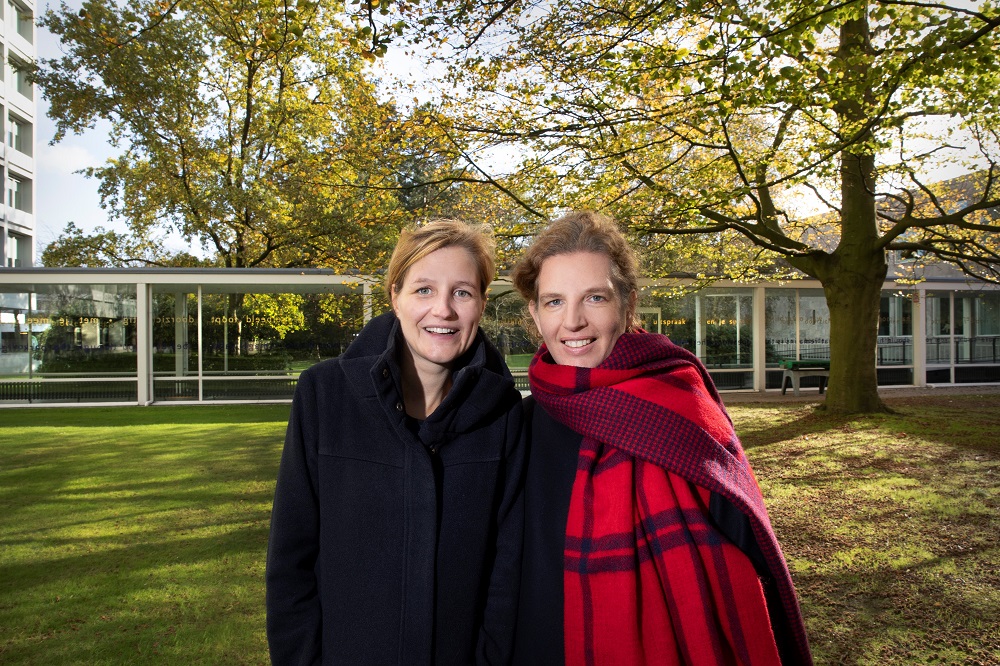 Both are concerned with law and sustainability. Floor Fleurke focuses mainly on European environmental law and Anne Lafarre looks at sustainability from the perspective of business law. Together with several colleagues, they developed the minor Law and a Sustainable Future after coming to the conclusion that environmental and other sustainability issues had no clear place within the Bachelor's program in Law.
When the idea arose within the Tilburg Young Academy (TYA) to write a book in which members shed their critical light on the university's Strategy, it quickly became clear to Lafarre and Fleurke what theme they wanted to address. Lafarre: "We wanted to explore what we mean by a 'sustainable university' and how Tilburg University relates to it. What struck us is that in its communication on sustainability and also in its recent Strategy (Weaving Minds & Characters, ed.), Tilburg University mainly focuses on the university as an organization and employer. It talks, for example, about making the campus 'greener,' more plant-based food in the mensa, or commitment to environmentally friendly commuting."
Sustainable research and education
Too narrow a sustainability vision, both researchers believe. After all, the university offers much more than just that physical organization, namely their core business: education and research. In the latter area, some things are certainly already happening, Lafarre and Fleurke discovered during a search of the TiU website and conversations with colleagues.
"There are many TiU researchers working on sustainability in different ways although it could be better communicated. The university can focus on the outside world more and give it a clearly visible place," Fleurke said.
'We must move toward a sustainable society. Otherwise we won't have the society we know today in a few decades'
According to the researchers, what Tilburg lacks above all is a sustainable course in the field of education. Lafarre: "In terms of sustainability and education, you can still not find a lot while you want to teach the future generation about where you want to go. If you look at our mission statement Understanding Society, we see quite a mismatch there. Right now, sustainability questions are the biggest issues for our society, then you expect to see that reflected in the programs' curricula."
Influencing human behavior
In their essay "Becoming a Sustainable University," Lafarre and Fleurke write, "Numerous scientific experiments show that the cause of environmental degradation and the resulting social problems lie in 'human behavior' rather than in 'human nature.' This implies that the search for sustainability is, in fact, a search for influencing and organizing human behavior in new and innovative ways."
During their research, they got the feeling that Tilburg is lagging behind in the area of sustainability. By primarily presenting a profile as a green campus while a university is much more than that. Fleurke: "If we strive for a sustainable future for humanity, it requires joint efforts by researchers from disciplines that are all well represented at our university, such as economists, lawyers, psychologists, sociologists, philosophers, and public administration experts. "
Fleurke: "We think that Tilburg University in particular is very well situated to give sustainability issues a prominent place. As a university, we specialize in the social sciences and human behavior, moreover, our contextual way of working is very distinctive. It is very much an extension of what we actually already do."
Towards a more sustainable university
Although the essay is expressly intended as an opening for further discussion, the researchers also provide a number of recommendations for a sustainable change of direction in Tilburg. For example, changing the mission statement to: Understanding a Sustainable Society.
What can that accomplish? "You set the tone, you cannot say this is our motto and then not fully integrate sustainability into your education, research, and campus life," Lafarre explains. "You ensure that everyone is working towards the same goal. Of course, there has to be enough room for all kinds of other important social issues as well, but right now we have to move toward a sustainable society. Otherwise, we won't have the society we know today in a few decades."
Fleurke adds: "I also think that you then really show: this is Tilburg. We choose this identity. And if you look at the Sustainable Development Goals, such as: responsible consumption and production, no hunger and poverty, lifelong learning for everyone. Actually, all Tilburg research already falls under these in one way or another."
Because there is currently little transparency in how Tilburg University makes sustainability decisions, according to the legal scholars, they propose the creation of a sustainability committee. Other organizations and universities have already preceded in doing so.
'Why not go for a small local coffee shop instead of Starbucks?'
Lafarre: "With a sustainability committee, you can introduce the required checks and balances, and it can be a good sounding board for the Executive Board. Moreover, you can monitor whether sustainability is actually a priority within the university's Strategy. Within our university, we have employees and also students who are incredibly knowledgeable in this area. We have external stakeholders who are also very concerned with these issues. Why shouldn't we use that knowledge to achieve the sustainability goals?"
Such a committee, according to Lafarre and Fleurke, could, for example, introduce a labeling system where you can see how sustainable different program courses are, as the University of Gothenburg has done already. Or write a new sustainability plan that doesn't just focus on a sustainable campus or reducing staff flight hours but truly integrates sustainability into education and research.
Coffee and books
Another great example of how the Tilburg campus can also become even "greener," the researchers see in the Books 4 Life initiative. This campus bookstore that works with volunteers sells only donated and used books, and all proceeds go to charity.
Lafarre: "Currently, the Books 4 Life store is hidden in the basement of the Cobbenhagen Building. Many students and colleagues don't know how to find it. We think such an initiative deserves a place in the spotlight on the campus to serve as an example of the values we care about. And why not go for a small local coffee shop instead of an international chain like Starbucks? Or combine the two: sustainable coffee AND books, that seems like a great plan to us!"
Would you like to read the essay with all the recommendations? Read Becoming a Sustainable University in the book The Good of the University. Critical Contributions from the Tilburg Young Academy at Open Press TIU.
Translated by Language Center, Riet Bettonviel